Laura Richards' "Collected Works"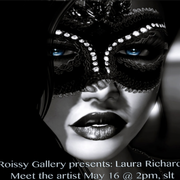 WHO Laura Richards
WHEN Wednesday, May 16, 2018
WHERE Art Gallery
CURATOR Juelle
HOST Brianna Marie
by Blue Ronsein, Roissy Journaliste
"Welcome everyone, I'm Bri and I will be your hostess today here at the Roissy Val d'Oise Gallery. Our artist today is the amazing Laura Richards, please enjoy the environment, and avail yourselves of the snacks while you peruse the wonderful images she's provided for us today." declared Brianna as people entered and feasted their eyes.
Then the buzzing began, "These are wonderful they remind me of Brassai's work of various lifestyles in Paris during the 20s," to which Miss Richards responded, "I do a lot in that style and from that period. Its such a glamorous age, its hard to resist."
But the variety in her images transcended any one time period --- or any one style, as it happens. "Everyone thinks I ONLY do black and white. I do as many in colour. Honest I do!!!" And before long Laura Richards' personality emerged, a stylish attitude that combined humour, taste, and an aristocratic self confidence.
The artist attracts a large following, many of whom were in attendance from all over the grid -- including several of her gorgeous models.
As the Opening closed, Brianna summarized, "Thank you all for being here with us today - and if you're looking for more - make sure you check out Laura's Flickr at: https://www.flickr.com/photos/laura_demonista/ "