Mick Jones' Photo Exhibit: "Bright Lights, Big City"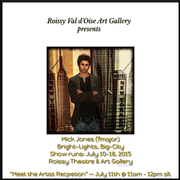 Roissy Art Gallery is proud to present
MICK JONES
"Bright-Lights, Big-City"
Photo Exhibit Runs: July 11 - 18, 2015
Special "Meet The Artist" Reception: July 11, from 11 am - 12 pm slt
The Roissy Theatre & Art Gallery
Mr. Mick Jones has an eye that sees the authenticity of New York City and captures it on film. He is not only a photographer but a musician and a painter (his medium being acrylics). His photos have been featured in The New York Times, The New Yorker magazine and major news organizations like CNN.
When asked, "How long have you been creating?" here is what Mick shared:
"I have been creative since I was a little boy.
"As a teenager I painted but gravitated to guitar and then spent many years playing in bands. It wasn't until 2009 that I stumbled upon the photography.
"One cold winter morning I sipped a coffee while sitting in my car and I noticed an old cheap camera in the glove compartment. My girlfriend was going to take some photos at an event but never used it. I picked it up and snapped some photos of the breaking waves and the sun rising over the ocean.
"I learned how to upload them later that day and then posted 5 on a social media site where I received an immediate and very positive response.
"I used that little camera for a year and then upgraded to a 100 dollar camera (laughing).
"Three years later, the photography had become so popular I decided to move to New York City to pursue my new found passion."
In New York, Mick met with great success. Once there, people told him that his style was very much like Cartier-Bresson and his ability to capture the "decisive moment."
Mick had to research who he was and found that he could easily see he was out there doing the exact same things.
"I saw a very short old film of him where he is out there on the streets - running a bit to get a photo. The way he stopped and took it - so that the camera would not shake - made me smile. I know that move well. Those types of photos won't appear at the exhibition but they probably are at the core of 50% of the photos that I take."
He describes himself as an "urban street photographer," who has been influences by such artists as muscian Lou Reed and the Velvet Underground, as well as earl David Bowie and Iggy Pop.
"Because of that, I naturally was influenced by Andy Warhol but over time I gravitated to Van Gogh and artists like him. I think there was something beyond the paintings though. Being pulled toward the same types of people and naturally liking their art. No one comes to mind though as being a favorite though I noticed that artists like Hopper seem to see what I see when I use my camera."
When asked, "Which of your works is your favorite, and why?" his reply was both surprising and deeply appreciated, for he showed the true sensitivity and perhaps empathy that the best artists seem to hold.
"I took a photo of a child trying to help her little sister to feel better. She was crying because she was tired now after playing in the park - very tired. The little girl was trying to comfort her in a way that only 2 little sisters could. They were both so young - I don't know - 5 or 6 years old? What was happening between them - her unconditional love for her sis - came though in the photo. "
Please make time to come meet MICK JONES at the Photography Exhibits, "Meet the Artist" Reception that will be held on July 11, from 11 am to 12 pm slt, and take the opportunity to ask questions and talk with this incredible man.
Juliette Surrealdreaming
Roissy Journaliste & Art Gallery Curator