Pixilated Poet's Art Show - EVE'S REVENGE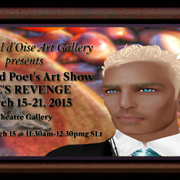 Roissy Art Gallery is happy to present
Pixilated Poet's
EVE'S REVENGE
Art Show March 15 ~ 21, 2015
Special "Meet The Artist" Reception March 15, 11:30am-12:30pm slt
The Roissy Art Gallery & Theatre
Pixilated Poet feels that he has been very lucky to have the opportunity to express himself artistically even if it has taken most of his lifetime to achieve some small degree of comfort doing so. He tells us:
"Often our logical brain will stifle the creative side that seeks to express itself unfettered by self imposed derisions that our attempts are not good enough or that we lack natural skills that many artist seem to have such an abundance of though some magic of their genetic makeup."
The key for Pixilated Poet and, he feels, for many like him, is to learn to let the creativity flow by becoming immersed in the creative task at hand and shutting down the logical dictator self for a while.
SL and the many creative souls here have been an added inspirational boost to his artistic endeavors. In closing, Pixiliated Poet wishes to say:
"I want to thank all the wonderful people who support us artist through their own combination of creative and business skills which allows our work to be viewed and appreciated by so many more then would otherwise be possible. And of course all those who attend the various activities showing their support through donations and purchases of the myriad artistic forms available in SL.
"A hearty thanks to all!"
Juliette Surrealdreaming
Roissy Journaliste