Sir Phenix Rexen - "The Digital Beauty Series: 10 Anniversary" Exhibit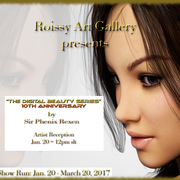 January 20, 2017
The second Roissy Art Gallery Premiers "THE DIGITAL BEAUTY SERIES - 10TH ANNIVERSARY" occurred on Friday January 20, 2017 at noon in Gallery B. Sir Phenix Rexen came to Second Life in 2008. An artist both in real life and Second Life he has mastered 'digital art' where he has developed his passion for the female form to such an extent that his art pieces evoke a deep emotional response. Evident by the comments made by both Dominants and submissives at the opening.
On entering the gallery you are welcomed into the gallery by a picture of a stunningly beautiful girl, a brunette, beautifully formed. A coffee cup by her side as she gazes naked out of a window at the Eiffel tower. This piece of art had a complete 'WOW' factor to all that walked up the stairs into the exhibition.
An noon Sir Phenix opened the Exhibition, here are his words:
"Ok, this Exhibition is officially Open! Thank you to all to be here, I hope you will enjoy this exhibition. If you have a question do not hesitate to IM me :) If you are curious to see how I create what you see, you can see the steps that I use here on Youtube . If you want to follow my Artwork with 800+ illustration to this website it is free but remember to register (free) on Deviant art to see the mature content.
"OK, so the story of "Digital Beauty Series" is born in Second Life in 2007. I was SL Photographer for some years and finally in 2011 started to explore a 3D program called DazStudio 4. It is a 3D program to create characters and illustration as you see. In 2012 I got Octane Render, a photo realism render program and in 2015 I started to use Zbrush to give me the ability to morph and shape the figures. What you can see here is a sample of 844 illustration made in 5 years and 1000 illustration when I made SL photography. I use all these tools to express, sharing, making life to the "Emotion" in tribute to the "Woman". My passion for her is unlimited."
Phenix Rexen: "you can see another video showing the Realism work render here"
This Exhibition certainly evokes emotions and portrays the beauty of the female form. The Exhibition can be seen at the Roissy Gallery 20th January until the 20th March, 2017.
"All these years I made life to you, because you represent the femininity, the beauty and my reason to be. Sometime you are nude, sometime dressed, you stand, sitting, make a smile .... you are my dream Girls." ~ Phenix Rexen
Raevene
Roissy Journaliste
*photos courtesy of Raevene
[JSD]