Texas Rob's "Collected Works"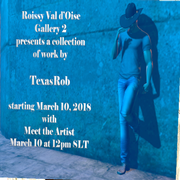 WHO Texas Rob Mc Rae
WHN Saturday, Mar. 10, 2018
WHERE 2nd Floor, Art Gallery
CURATOR Ju
HOST Rhiannon
by Sadie Xue, Roissy Journaliste
The champagne was flowing freely as the Roissy Art Gallery welcomed TexasRob and his wonderful art to adorn its walls. Rob has been doing SL photography for a very long time. Rob blends the emotions and eroticism of his subjects together in a magical way. He captures the essence of his subjects in a beautiful way., and leaves you wanting more.
Temperatures were rising as lighting reflected off his models and their shadows cast on the walls - emphasizing the subtle, and not so subtle, curves. Murmurs appreciating the masterful use of shadows was heard on more than one set of lips.
Make sure you stop by to check this exquisite show out before it's gone or view more of this exceptional artist's work, please check out his Flickr page: https://www.flickr.com/photos/93077068@N04
Congratulations TexasRob on a great success here at Roissy Val d'Oise.