The Misty Majesty of Sera Galaxy's Art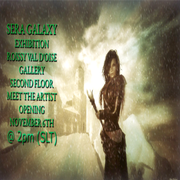 Who Sera Galaxy
When Monday, November 6, 2017
Where Art Gallery, Level 2
Curator Juelle
Dozens of awestuck people attended Sera Galaxy's entrancing exhibit featuring 23 of her artistic photos taken in Second Life.
Th images depict moody, sometimes dark scenes of interesting women or gauzy landscapes peppered with striking details. Each is magnificent in its own way, as you can see on her flickr page, found at https://www.flickr.com/photos/111419317@N03/. Light steaks in through trees or windows to surprise you out of hypnotic lull and tease your eyes.
Th Exhibit was celebrated for a month afterward on the 2nd floor of Roissy's Art Gallery. Juelle, curator of the Gallry, arranged the exhibition.