Ciara's & Ginger's Harvest Festival and Auction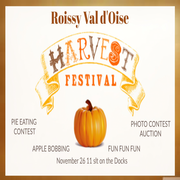 WHAT Harvest Festival Photo Contest & Auction
WHEN November 26, 2017
WHERE The Docks
ORGANIZERS Ciara Ashton and Ginger Templeton
AUCTIONEER Petra Steele
by Blue Ronsein, Roissy Journaliste
Photography by Xanadu
It started on Nov. 19 with a gigantic display board placed over the Docks, with rules for a special photography contest. Members of Roissy could vote twice each day up until the big Festival party on Sunday the 26th.
The five winners?
1. Mistress Petra Steele
2. Venna Althouse
3. Ciara Ashton
4. Svana WAF
5. Dexter Howley
At th party, DJ FreeDom played great music while members danced and bobbed for apples. After a short while, Mistress Petra took over --in voice-- as Auctioneer to raise as much money for the sim as possible getting people to bid for dates with the five photo vote-winners. When the howling and hooting ended, the auction raised a whopping $L21,600 for Roissy Val d'Oise.
Who won dates with whom?
Patty bought Petra for $L5,000
Alang bought Venna for $L3,500
ChicagoSax bought Ciara for $L3,000 (after a massive bidding war with Mako)
Petra bought Svana for $L2,000
Venna bought Dex for $L1,500 (after many giggles about Sir Dex's super-sexy fig leaf)
In the Pie Eating Contest, things got messier. Contestants Ginger, Muffin, Free, and Ciara slobbered hungrily at their pies, flinging delicious fillings and bits of crust all over the place. Finally, DJ FreeDom won first prize and the chewing and sputtering stopped. Whew! Pass the napkins!
Congratulations to all for such a fantastic Harvest Festival!