Elvis Presley Concert - August 9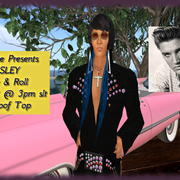 August 9, 2015
Roissy Val d'Oise Presents
ELVIS PRESLEY
"SHAKE, RATTLE & ROLL"
LIVE Concert on Tea House Roof
Sunday, August 9, 2015
3pm SLt
Surrounded by Pink Cadelack and movie memorbillia, dress in your favorite 60's outfit ala Elvis-era and come do the Elvis shake.
Prepare yourself for a walk down memory lane!
ELVIS IS IN THE BUILDING!
Master Rene sent out the notice and began playing a music block of Elvis on the Roissy Radio to get us into the mood as we prepared ourselves for the concert!
And what fun we had, arriving costumed in our favorite Elvis movie or just in 1950s/60s garb.
Elvis was incredible and the LIVE performance given to us by JoeUSA made us hoot and shake our hips and sing along.
Three carhops on roller-skates (Cristal, Koskaa and Juliette) rollered around serving drinks and just terrorizing everyone, taking photos, handing out teddy bears and a velvet Elvis Photo.
Even Master Rene put on his best rainbow jeweled Elvis outfit and when taking a glass of champagne from Juliette lost his pants!!! It was hilarious.
Extending his concert to two-hours, famille and guests enjoyed the time together!
A warm thanks to Master Rene, JoeUSA, Koskaa and Cristal for a wonderful Team!
Juliette Surrealdreaming
Roissy Journaliste
Cristal
Roissy Photographer
*a few photos courtesy of Juliette & Lisbeth