Paris Obscur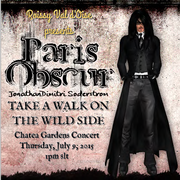 TAKE A WALK ON THE WILD SIDE CONCERT
with
Paris Obscur
July 9, 2015
1 ~ 2 pm slt
Le Chateau Gardens
*NOTE* Venue Location Change: Tea House Roof Top
Paris Obscur is a French songwriter and live artist, singing mostly his own songs, in english. His genre can be described as dark romantic music.

This astonishing performer will keep you hung upon his lips with his modern times faery tales, triggering strong emotions and contrasted felings for your greatest delight.

Childhood, dreams, love, melancholy, freedom, life and death are some of his favourite topics.
All his songs are linked, forming a complex and suspenseful story that you will like to explore in its smallest details.
Talking about details... you will particularly enjoy discovering all the richness of his work as a composer.

Sophisticated arrangements, carefully chosen instruments and sounds, breathtaking melodies : his 10 years of experience as a professional music writer for the advertisement business serve brilliantly his deep and dark sensual voice, that will make you ...hummm well. You know. The sexy french accent ...
Paris Obscur's influences and favourite artists are as varied as his work : Leonard Cohen, The Velvet Underground, Radiohead, Nick Cave, The Cure, Depeche Mode or The Doors... Through his music, you will recognize genres like classical, pop, goth, electro, indus, blues, dance music or jazz. Even country music. But always with this very special touch that makes his universe and shows totally unique.
Paris is not to be missed! Girls he will melt you into a puddle as you find yourself obscured! And with pleasure!