THE STORY OF O Discussion Hour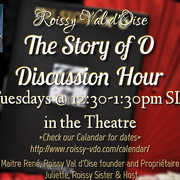 The Story of O
(French:
Histoire d'O
), is an erotic novel published in 1954 by French author Anne Desclos under the pen name Pauline
Réage
, and published in French by Jean-Jacques Pauvert.
The Story of O is a tale of female submission, involving a beautiful Parisian fashion photographer named O, who is taught to be constantly available for oral, vaginal, and anal intercourse, offering herself to any male who belongs to the same secret society as her lover.
Our sim roleplay is based on this story.
Please join us as we read and discuss this story from beginning to end over serveral weeks.
We will meet in the Theatre, where the movie can also be viewed.
To TP to location in Secondlife click
WEEKLY: starting March 3, 1015 - 12:30-1:30pm (SLt)
Juliette Surrealdreaming, Roissy Sister will host this event. She will read the story in voice, as well as post it. All Discussions will be in local.
Members and visitors welcome.