Master Nol Receives His Maitre Title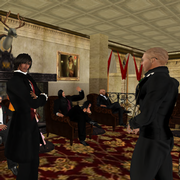 February 21, 2016
What a wonderful surprise Maitre Rene gave all of us at the beginning of Syndra's Demoiselle Initiation, when he announced that Master Nol was awarded the Maitre Title.
... read on ...
When Maitre René entered the room, he stopped before his chair and said, "Bonjour famille, Welcome friends," and inreturn was greeted by Sir Quiet, Karli, Master Nol, Trot, Maitre Dusty, Juliette, Sir AJ, Swan, Lisalynn, Sir Dekegy, Sir Mack.
When it quieted, he turned to Master Nol, who instantly stood and stepped forward as Maitre René announced, "Famille, please join me this day in congratulating the achievement of Nol receiving his Maitre tag, Congratulations my friend, your Maitre title is well earned and a pleasure to give you."
"Congratulations Maitre Nol!" echoed around the library by Maitre Dusty, Xanadu, Malana, Karli, Juliette, Trot, Sir Quiet, Maitre Turner, Swan, Sir Mack, Sir Dekegh, Sir Sam, Mira.

Maitre Nol smiles and head turns red, "it is an honor to become a Maitre of Roissy val d/Oise."
René smiles back.
"Thank you Rene and all of you supporting me", said Maitre Nol. He looks to Maitre Dusty, "I heard you have been informed so thank you for agreeing."
Maitre Dusty applauds for our new Maitre...."Now the real work begins," he said and grinned.
"Real work?" echoed Maitre Nol, smiling. "I am nothing else as real."
Maitre Dusty smiles....."Congratulations," he said again, as Sir Mack says loudly "We'll see in a weeks time!"
Maitre Nol takes the tag and steps back as Maitre René takes his seat and settles back to observe the ceremony. He looks at Dusty and nods to proceed with the initiation.
It was then, that Maitre Dusty said, "What a wonderful way to start a day.... Congratulations Maitre Nol.... And now we will get on to why we are all here."
---
Hearty Congratulations to our newest Maitre Nol!
Tue 23 Feb 2016 12:01 PM
Maitre Nol (No Lax) recently completed all of his requirements, his event and his workshop and was promoted to Maitre by René on Monday 2//22. He is a great contributor of knowledge and role-play skill to our community and will begin duties in the Dom Office soon..Please join me in congratulating his advancement.
Propriétaire et Maître De Roissy Val d'Oise René
Dom Supervisor team: Maitres Dusty Caldera & Taylor Smitty
---
Juliette SurrealDreaming
Roissy Journaliste
Xanadu
Roissy Photographer