Syndra Sister Graduation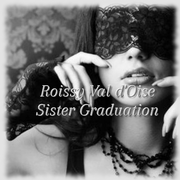 May 17, 2016
All gathered for Syndra's Sister Graduation. The honored guests filed onto the stage, each taking their designated chair or cushion.
When all was ready, Gillian asked Syndra's Mentor, Sister Trot, to bring her forward and place her on the cushion to the left of the stage
Once Syndra was obediently kneeling upon her apointed cushion, Trot lowered onto hers and the ceremony began.
As always, Gillian made the opening speech and then proceeded to invite those speaking on Syndra's behalf to step forward. Here are those speeches.
Maitre Dusty Welcomes All
"Honored Members and Guests, your presence here supporting Syndra in her graduation means quite a lot to her I know, and to all of us who watched her grow in her submission through her path here. Today is a very special day for her as she graduates from Demoiselle to Sister, a significant milestone indeed.
"The path of a submissive is not easy, there are many hurdles, but, if it were easy, anyone could do it and many would do it. But because we expect a little more from our submissives, we see them falter often, some return admirably and some, well, not so much. Our submissives are not just 'anyone', they are special, they are, as we like to say, 'a cut above."
"Syndra has come to realize that a submissive can be a strong woman and still give herself freely and without reservation to the dominant that truly understands and respects her for who she is (and you know who you are *smiles*). Her true strength lies in her willingness to give.
"She is beginning to realize that her sense of honor, complete openness, willingness to please and her extreme loyalty are among the finest qualities that any submissive could hope to attain."
"This is indeed a proud moment for our lovely Syndra. Please continue, Gillian" and finds my seat once more."
Xanadu for House of Samois
Thank you Gi. It is indeed my pleasure to represent the House of Samois as i welcome everyone. Today we celebrate the accomplishments Demoiselle Syndra has made on her path to becoming a Roissy Val D'Oise Honored Sister....i say honored .. as each submissive must work to obtain this as level in her path .. as it is not given freely.
I believe the first time Syndra and i really spoke other then greeting .. was following her pre initiation meeting and i found a very sensitive sweet lady who was willing to assist our community as she could .
I totally enjoyed Syndra's Sister Workshop Collaring Rituals .. i am sure many like me were also educated and with a well attended Sister 50's Grease Party Event.
Many of us on the Dominant and submissive paths do experience times where we slow and question why we are here .. but in the end we open our minds .. learn and then move forward finally to obtain the acknowledgment.. of a path well traveled.
We thank every one for supporting Roissy Val D'Oise with your presence .. as we celebrate these memories shared on Syndra's Special Day ...Following this Ceremony at 2pm.. we invite you to join us as Dj Sadie provides our entertainment in the Ballroom .. as we Honor our newest Sister Syndra
Maitre Dusty for the Sister Final
"Thank each of you again for being here to help us celebrate Syndra's accomplishments. It's an honor to be part of one of our most sacred events."
"I met Syndra a few months ago and was Immediately impressed with her motivation and desire to truly understand her submissive nature. She has remained very active in the community, attending most of our workshops and events. She can always be counted on to help someone that has a question or needs assistance in completing a task."
"On May 1st, Syndra came to me and asked me to guide her through the last part of her path; her final scene. I felt honored and hoped I could be a shoulder to lean on and could be of some help in a way she expected me to be. The final scene was intense in spots and yet overall yielded a quiet strength in her resolve to provide the best in service that she could."
"I did so love the tea service.... among your many other talents and skills."
"Syndra Is a wonderfully warm and endearing submissive, true to her innate desire to please and serve. I have been impressed with her scening skills, her concern for the well-being of others, and her insight and emotional maturity.
Syndra's gained knowledge in Dominant/submissive relationships and BDSM scening, coupled with her desire to truly understand her inner submissive nature, and her desire to serving the community, makes her a perfect candidate to be a Sister at Roissy Val d'Oise, giving back so generously to the community from which she has learned so much. It has been a sincere pleasure getting to know her and I fully recommend her promotion to Roissy Sister."
Sister Trot as Mentor
It has indeed been a pleasure mentoring syndra on her path. A submissive always striving to please and to help in any way she can. Syndra has tackled her tasks with skill and enthusiasm. i am very proud of her for completing her path, her loyalty and her compassion towards others, she knows when to open up and talk and when it is best to contemplate and learn from an experience.
Her drive to learn, grow and complete the program to sisterhood to the best of her ability has truly been a blessing. Syndra has stumbled a few times on her path.. as many of us have and are very familiar with the pitfalls, it was not always smooth sailing.. she has listened though and picked herself up, chalking the stumbles down to learning experiences along the way.. as it should be with all of us.
I was indeed honoured that she chose me to build her event set for her Grease event and in my opinion the event was enjoyed greatly by all that attended. From what i hear syndra has found someone very special here at Roissy.. i wish them both the best as they continue along their paths together. I have no hesitation, as syndra's mentoring Sister, in recommending syndra to move to the position of Sister, in my opinion she has grown in leaps and bounds here and is truly worthy of said title and all that goes along with it.
At last the time came for Syndra to receive her title. In the absense of Maitre Rene, Maitre Kurt gave conferment... and Syndra was given her Sister Ring and Sister Title.
Maitre Kurt gave her milestones:
Syndra was accepted as a Debutante into the House of Samois on 13th Janurary 2016 .
Her Demoiselle Initiation was held on 22nd February 2016.
Syndra presented a well thought out workshop on Collaring Rituals 20th April 2016.
Her fun and exciting event Grease is the word was held on 17th April 2016 in a beautifully decorated sky box, it was well attended and we all enjoyed it .
Her final task was given to her based on her strengths and weaknesses. After receiving a notice of recommendation from Maitre Dusty that all was completed and she was worthy of Sisterhood.
Syndra's Sister Speech
Greetings my Roissy Family, Today my graduation fills me with excitement and pride. As I look about the faces present, I know that everyone here experiences the same type of close community that I have come to know and enjoy. People here are not just pixels, most are warm and caring souls.
When I first arrived at Roissy, I was still searching. This lovely sim and the great people on it allowed me to learn and experiment in a safe environment. I have met some truly awesome people here… loving, intelligent, dedicated.
My mentor, Trot Mistwalker, has been quiet confidence all along my journey… always available and eager to help me whether it's answering questions, or building a set. Thank you Trot, you are such an inspiration. Thank you Sana, you have given me your time as well as talent and it's much appreciated.
Roissy is a lovely sim and I do realize it's here because of the generosity of Maitre Rene. However, it's the people here that are important. And, I am truly grateful that he has created this community that attracts such fine men and women.
They all have strengths to contribute and I have gleaned a lot of knowledge just from talking with people here. The sim is active with workshops, entertainment and colorful chat. It is no wonder that people like myself are attracted, fall in love with it and choose to stay.
Thank you goes out to Gillian and Maitre Dusty for their commitment to this community, their above and beyond work load. I will always have fond memories of the Sister final created by Gillian and the awesome scene I role played with Maitre Dusty. And, thank you Remington Rothmanay for all of your encouragement and support.
My next step is to focus on my strengths and hopefully find a way to contribute to the community. Thank you my Roissy family for sharing this achievement with me.
Gillian's Speech
Syndra, congratulations on your new role as Sister of Roissy Val D'Oise, your loyalty and dedication to our sim is an example to all the other Debs and Dems following in your footsteps. I hope that you continue to grow and learn here at Vdo and that you will be here for many years to come.
Are we there yet, are we there yet? How many of us remember this from our childhood on long road trips. It's not not about the destination its about the journey to get there. Relax take your time, breath and live everything, don't rush, we all learn so much about ourselves as we move along our paths here.
Have fun on your paths, get to know people, think, reflect and learn, even as Sisters we are continually learning new things, patience, tolerance, respect, comes to mind at the top of my head. Embrace your paths and enjoy every minute of the journey.
I'd like to thank E/everyone for their patience and understanding as i contintue my struggle with a tempremental internet and phone line in rl.
Thank you Maitre Kurt for very kindly taking Maitre Rene's place today who due to unforseen circumstances was unable to attend Syndra's Graduation today
A heartfelt thank you goes out to Maitre Rene for sharing his dream with us he has provided us with I'd like to thank E/everyone for their patience and understanding as i continue my struggle with a temperamental Internet and phone line in rl....a wonderful sim, a place we laugh, cry, get frustrated in , role play and meet people from all over the world, a place where we have formed wonderful lasting friendships with people we would never have met in our daily lives.
Thank you ..blows you a kiss.
Thank you Maitre Dusty, for you never ending support, for your broad shoulders..smiles... and your patience.
Thanks to Xan and Sana for all the hours you put in here everyday, for your unending support, help, advice and guidance.
A special thanks to all the Dominants who help the girls, help guide each and everyone of us, we appreciate you all, to our sisters who give up hours of their rl time to help their mentees
Maitre Kurt that concludes the ceremony, as the House of Samois is proud to see another of its Demoiselles take her place in the wider community. May I now invite you to close the proceedings witnessed here today?"
Maitre Kurt's Closing Speech
"This is your day Sister Syndra!! come everyone and raise your glass with me in congratulating and welcoming her into sisterhood here at Roissy Val d'Oise It's time to live up to your success, smile and take a bow ! "
Sweet (SWEETBABYBLUES Resident): CONGRATULATIONS SISTER SYNDRA
Kurt™ (kurt8 Resident): Congratulations Sister Syndra!!
Quiet Huet lifts his hand, gives a tip of his hat and a thumbs up and says ... "Congratulations Syndra
Julie Tremont: Congratulations Sister Syndra!
Rhiannon Torlan (NightTimeReaper Resident): Well done and congratulation Sister Syndra.
Blue Ronsein: Best wishes you to, Syndra and congratulations on becoming our new Sister
Nol (No Lax): congrats Syndra to be now a Sister of Roissy
Dekegh (dekegh Resident): Great job; congratulations
Tara (tarailene Resident): You are an inspiration Sister Syndra
SuzetteMeatGirl Resident: Congratulations Sister Syndra ::hugs::
Syndra (SyndraOfFinwe Resident): -gives a huge smile and waves at Remington
Malana (KimiLotus Resident): Congratulations Syndra!
Gillian Darkwatch (Gillian Gemini) lifts my glass...blows Syndra a kiss ...Congratulations Sister Syndra!
Protektor (Protektor Hallard): Congradulations Syndra
Blue Ronsein: Grease is the WORD!
Syndra (SyndraOfFinwe Resident): -chuckles
Trot Mistwalker: congratulations syndra.. the title of Sister so well deserved.
Remington Rothmanay smiles warmly and blows Syndra a kiss as he grins
Dusty Caldera raises my glass "Congratulations Sister Syndra!
Kurt™ (kurt8 Resident): Lately it is customary for the person standing here to offer a poem. I won't do that, as I have thought about it, there is no poem that can add to the beauty of this moment with this wonderful new Sister. This is your time *turns the right direction* It is a time for you to reflect and celebrate on your past, present and future. A time to rejoice and celebrate. Syndra , it is with pleasure to call you a Sister of Roissy Val d' Oise I wish to you see you continue to grow and learn. May your path at VdO always be remembered as something precious and dear to you.
With the many new approaches and new visions, let us each work together and share ideas. Let us grow as a community as we seek to move forward. Let us face the good and the sometimes difficult challenges here with a good attitude and enthusiasm. Let us practice kindness under even the most difficult circumstances as we welcome family from many different backgrounds. We have no idea, sometimes, what challenges and difficulties others who cross our paths have faced, even in the moments before coming to VdO for escape from the cares of day to day living.
I thank all of you for sharing in your time and showing support today as Syndra became a sister of Roissy Val d' Oise. I encourage each of us as members to take a look deep inside ourselves, be the example setters for others as we lead and guide, always keeping in mind the closer we bond the stronger we become. No matter what others may try and tear down.
In closing, you are all invited to play more active roles. If there is something you can offer the sim, please fill out a notecard and drop it in Rene's mailbox just outside his office. We are a family, and we can't do this all ourselves. I am humbled to know each of you and call you each my famille.
Again, Congratulations Syndra!
Juliette SurrealDreaming
Roissy Journaliste
Mira
Roissy Photographer