Kaelyn Alecto Exhibit of Photography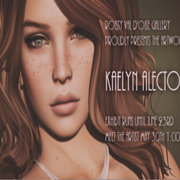 Who Kaelyn Alecto
When 31 May 2017
Time 1 PM SLT
Where Art Gallery, Level 3
SL artist Kaelyn Alecto exhibited her collection of sensually gorgeous photographs, hung in lovely succession on Level Three, representing a range of themes: erotica, nudes, playful, landscapes, and more. Her photographs have been used twice on the Second Life main website and once on the marketplace. She has also been used as the Second Life picture of the day on two different occasions.
She decides what to shoot based on her mood, Kaelyn explains. During the Opening Champagne Reception she answered questions and talked about how she composed the images. And on the following day, she joined our Wednesday Lingerie/Tuxedo theme by wearing a sexy lingerie ensemble while hosting guests at the Exhibit.
Her work may be see at www.flickr.com/photos/sweetsexycrazy. She works hand in hand with her talented husband, Gorba McMahon, whose photographs may be seen at https://www.flickr.com/photos/gorbamcmahon.
Blue Ronsein Roissy Journaliste